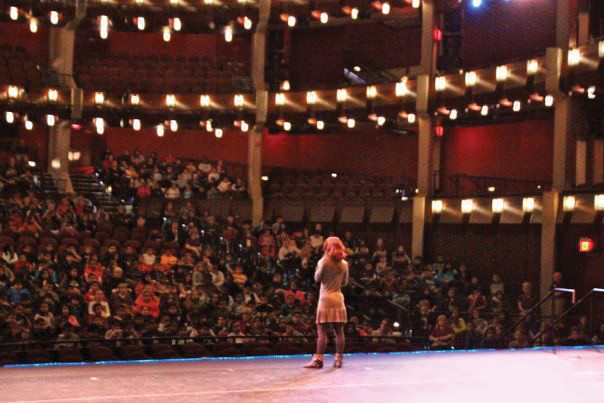 In this program, MBT presents professional ballet performances exclusively for students of the Manassas and PWC public schools. Each performance is provided free of charge to the students and the schools. Annually over 6,000 students participate in this unique program.
The selected classes watch an introductory video, which explains about the Hylton Performing Arts Center, Manassas Ballet Theatre, the process of putting a ballet performance together, and how to be a properly behaved audience member. On the day of the performance, the students are transported to the Hylton where they watch a professional ballet production at a world class venue. Besides enjoying the artistry, the students have a socializing and culturally broadening experience that few would otherwise ever experience.
At the end of every performance, the students have the opportunity to interact directly with the artists and ask questions. After returning to school, the teachers incorporate elements of the performance experience into the SOL curriculum.
The cost of the program is supported by sponsors and by MBT's general operating funds.
In 2021, MBT began a partnership with the Kuma Foundation. Kuma provides STEAM education opportunities to under-served children in Manassas and Prince William County. MBT provides the "A" that helps convert a STEM education into a broader STEAM experience.
Hi Amy,

I thought I would reach out to let you know that the students at Ellis Elementary in PWC Schools had a wonderfully creative experience watching the video of Manassas Ballet Theatre performing Peter and the Wolf.

 Our music teacher, Breanna Gromicko, our librarian, Christy Klisiewicz, and art teacher, Kelly Dean worked together to create follow-up experiences that involved the arts in response to the show.

Breanna introduced the video and in follow-up lessons with each class, students had a chance to discuss their favorite parts of the ballet and discussed the characters.  Christy had several different versions of Peter and the Wolf in the library to read to each class.  In art class, Kelly Dean had students complete a variety of pictures about the ballet based upon their grade level.  The intersection of these three arts-related classes opened the eyes of many of our students who have never witnessed a play or a show with dancers.

Thank you for sharing this wonderful opportunity, enabling our students to connect with several art forms through Manassas Ballet Theatre.

I am looking forward to seeing Giselle!

 

With gratitude,

Sheryl

FCT Artistic Chair


(571) 445-3606 (h)
(215) 534-9022 (c)— Dance of Life —

Dancing, twirling, the magical miracle of life ~