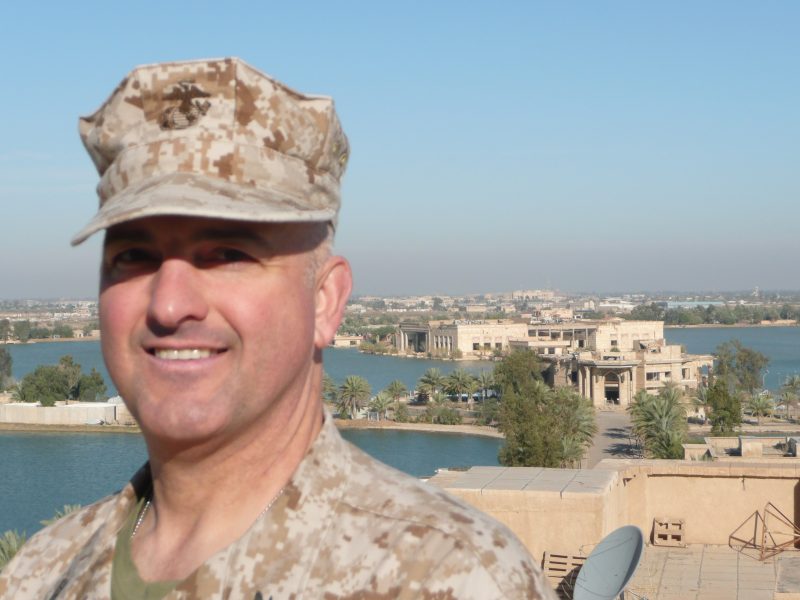 Salute to the Military is our annual opening night ceremony, December 14, of Nutcracker that celebrates and thanks all military members and branches for their service.
This moving entre into the program features the Manassas Ballet Theatre Orchestra playing the National Anthem and a medley of all the service anthems, bagpipes playing "Amazing Grace" from the second balcony, a color guard, and the introduction of our honoree of the year.
Active duty military, veterans and first responders are invited to attend at no charge, by using the code SERVICE, with accompanying tickets offered at 20% off.
Tickets start at $35 and are available at the links below
or call the Hylton Box Office at 703-993-7759. 
Performance at the Hylton, December 14 at 7:30pm Tickets
ABOUT OUR HONOREE
Colonel Mike Riley, United States Marine Corps
Colonel Mike Riley was commissioned a Second Lieutenant in May 1979. Following officer training, his first tour of duty was with 3rd Battalion, 9th Marines in Okinawa, Japan.  Other active-duty assignments included a tour at Marine Barracks, Norfolk, as the operations officer; and two commands  during deployments with 2nd Battalion, 6th Marines out of Camp Lejeune NC. Following a tour with the Marine Corps Recruiting Command, Captain Riley was assigned to support three Marine Corps Reserve billets: Plans, Policies, and Operations Division, Headquarters, USMC; with 4th Supply Battalion, Newport News, and the Marine Air-Ground Task Force Staff Training Program at MC Base Quantico, where he participated for five years in the training of Marine Expeditionary Force staffs. He was promoted to Major and Lieutenant Colonel during these tours.
While supporting the Reserve component, Colonel Riley was a staff member for US Representative Jim Moran, 8th Congressional District, Virginia from 1991-1998. In 1999, Colonel Riley was hired as the Town Manager of Dumfries.
Following the events of September 11, 2001, Colonel Riley was ordered to active duty to stand up a Marine Corps command in the National Capital Region to address emergency preparedness and crisis response for Marine Corps elements. He participated in the stand-up of the Joint Force Headquarters, National Capital Region; the development of seven US Northern Command NCR based operations plans; two inaugural celebrations; two Presidential State Funerals; interagency exercises; and the dedication and opening of the National Museum of the Marine Corps. Colonel Riley was deployed to the Iraqi Theatre of Operations from January 2009 to January 2010 where he supported the II Marine Expeditionary Force (Forward) as the Senior Liaison Officer to United States Forces – Iraq. He returned to MC Base Quantico until his retirement in June 2010.
Colonel Riley received a BA in Political Science from the Citadel, a Master of Public Administration from Golden Gate University, a Master of Science in Biodefense from George Mason University, and a Doctor of Education from Capella University. His membership and community activities include the International City/County Managers Association; American Legion Post 10; Veterans of Foreign Wars Post 1503; Third Degree, Knights of Columbus, George Brent Council; Board of Directors, Manassas Ballet Theater; Ancient Order of Hibernians; and Head Coach, Hylton High School boys lacrosse and Osbourn High School ladies lacrosse.
He is married to Mickie Krause, Colonel, USMC (Retired) and resides in Prince William County. They have a blended family of four children and seven grandchildren.
Colonel Riley's personal decorations include the Legion of Merit (Gold Star in lieu of second award); Meritorious Service Medal (Gold Star in lieu of second award); Joint Service Commendation Medal; Navy and Marine Corps Commendation Medal; Marine Corps Achievement Medal; Global War on Terrorism Medal; and Iraq Campaign Medal.
Salute to the Military is made possible by a generous grant from Dominion Energy.