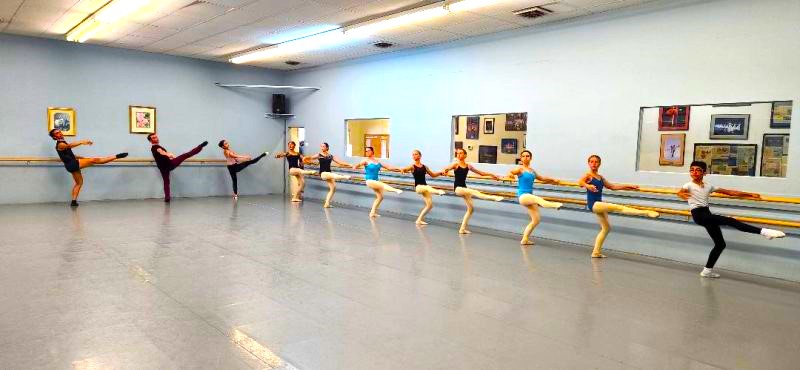 The Professional Division of Manassas Ballet Academy provides rigorous training and performance opportunities for students who aspire to a college major in dance and/or a professional dance career.  
Placement in the Professional Division is by invitation only from the Artistic Director.
Professional Division students are eligible to participate in unequaled performance opportunities; corps de ballet roles in MBT productions; performances with the Manassas Youth Ballet and competing at the Youth America Grand Prix.
Students admitted into the Professional Division sign a contract, along with their parents, detailing the minimum requirements of class attendance and their expected commitment to excellence.
All Professional Division students must abide by the following policies:
1. Attend a minimum number of ballet classes per week:
Ballet Levels I & II: Three

Ballet Levels III & IV: Four

Ballet Levels V & Up: Five
(These are only the minimum required, more are offered.)
2. Attend at least two Pre-Pointe/Pointe classes per week.
3. Attend Yoga class on Saturday.
4. Attend one class per week of the following:
Character

PBT or Stretch & Strength 

Modern, Lyrical, or Musical Theatre
5. Maintain perfect attendance in all classes throughout the year with the exceptions of illness, injury, or extenuating circumstances
6. Maintain your body in ballet performance condition to the satisfaction of the Artistic Director
7. Always have a positive and professional attitude towards Manassas Ballet Academy, the director, the instructors and fellow students
8. Maintain a level of behavior consistent with the expectations and standards of MBT/MBA as set forth by the Board of Directors, the Artistic Director and the Executive Director
Students in the professional division will be assessed by the instructors throughout the year as needed. Assessment will culminate in a Final Exam class in June.