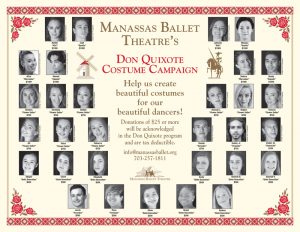 Ticket sales and other earned revenue cover only 67% of our expenses. In order to continue providing world-class dance and our award-winning Educational Outreach programs, we rely on the generosity of individuals like you as well as corporate sponsorships.
Your gift of any size is appreciated.
Our generous supporters have allowed Manassas Ballet Theatre to grow and fulfill its mission despite the ups and downs of the economy.
We remain committed to providing the quality arts programming in which our supporters have so generously invested in the past.
Patron Levels
FRIEND • $10 to $99
CONTRIBUTOR • $100 to $249
SUPPORTER • $250-$499
ASSOCIATE • $500-$999
FELLOW • $1,000- $2,499
PATRON • $2,500-$4,999
BENEFACTOR • $5,000-$9,999
SUSTAINER • $10,000-$19,999
ENDOWMENT • $20,000-$49,999
HONORARY MEMBER/BOARD OF DIRECTORS • $50,000-$149,999
SEASON DEDICATION • $150,000
Please make your donation payable to: Manassas Ballet Theatre
Mail donations with your name and/or business name and contact information to:
Manassas Ballet Theatre
9004 Mathis Avenue
Manassas, VA 20110
Or you can use your credit card online. Thank you for your support!